They say, "Immitation is the highest form of flattery."
I know I can say for myself, as well as for the rest of the Creative Team, we are all thankful for our position on the team. We know there is so much talent and inspiration around, especially on our very own boards. So we thought it would so much fun to pick out some awesome layouts from the gallery that we could scraplift.
You'll see that some picked paper layouts and even layouts in different orientations, as well. Sometimes you might find that you want to copy it almost exactly, while other times its just small bits that stick out to you. But no matter what, you can always find inspiration in the gallery!
Brittney (milmomma), Jenn (SarahWhithers) and Sara (Keling) each selected three different layouts to lift, while Cassandra (mommybruno) and Laura (Art_Teacher) also decided to join in the fun.
Laura (Art_Teacher) lifted this adorable page by scrapperatheart. She shared: "For this reveal we were to scraplift someone from the GP. I chose this gorgeous layout by scrapperatheart: Recipe for Success. I think it is amazing and I hope I did it even half as well as she did!"
I've Been Good, by Art_Teacher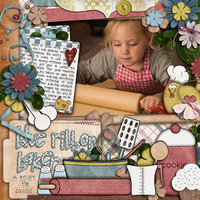 Recipe For Success, by scrapperatheart
Sara's layout is a lift of fong33's layout, "Family." She said: "The photo in this page is what totally captures you, in Fong33's page. In my page, the photo may not be so hot - it was actually taken by my 8 year old - but it is a great glimpse of my funny furbaby, Abby, who loves to cuddle under the covers!"
Kitty Kuddles, by Keling
Family, by Fong33
Jenn (sarahwhithers) also did three different scraplifts. Her first is a lift of a layout by GRACEpunches5. Jenn shared: "For the digi CT reveal this week we're scraplifting you talented ladies out there! Where else can we get such awesome inspiration other than the ACOT gallery?! For my first page I've scraplifted GRACEpunches5 and her page called Childhood Memories (which you can also see above). I loved her use of whitespace and 3 small pics, so I did it too!"
You Make Me Smile, by sarahwhithers
Childhood Memories, by GRACEpunches 5
You can view more 'Kopy-Kat Kreative' ideas by checking out the entire article on our Resources Page.
Great job, team!