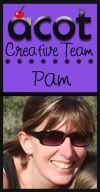 My love for
Jenni Bowlin Studios
is legendary. This time around, however, I cowered at the chance to work with her new line. I actually, if you can believe it, was hoping that one of my Creative Team members would ask me for it, and I could assign it to them. You see, it almost only consists of embellishments this time around, and I really didn't think I could do it justice. But.....it is Jenni Bowlin. So I HAD to try.
Once I sat down, though, things started falling into place. Jenni Bowlin is a classic scrapbook designer...her lines from season to season are based on the same color schemes, which is incredible. I could pull alphabets out of my stash to work with, for example...it is true to that vintage quality that makes Jenni Bowlin like no other.
Conveniently, her color scheme matches my daughter's select team basketball colors. If any of you have athletes that you scrapbook, you know how difficult it can be to create a sports layout. These embellishments are perfect for this! The banners and chipboard add color and dimension...and the simple layout is totally focused on the subject at hand.
Here is another athletic layout. These embellishments are perfect!
one last one....
I haven't used a rub on in FOREVER. I saw this clock, though, and HAD to have it. Delaney is my youngest child...and every minute that we have together is precious to me. She almost died on the day of her birth, so I wanted to make the clock the focal point of the layout. I wanted it simple and sweet....which is so easy to do, Jenni Bowlin style.
There was only one sheet of paper, but it is BEAUTIFUL. So I decided to create a layout using a photograph that I took this year on my girls vacation with 3 of the most beautiful women (inside and out) that I know. This layout incorporates both new and old Jenni Bowlin, as well.
Lastly, I did a quick layout with just a touch of Jenni Bowlin embellishments....the yellow bow. I love it!
I am in LOVE with these banners and the matching stickers, as you can see. Please check out all the new (and matching older!) Jenni Bowlin in the Shoppe!
-------------------------------------------------------
Pam lives in Wisconsin with her four children and husband. Besides scrapbooking, she enjoys altering items and making gifts. Pam is ACOT's Creative Team Coordinator.