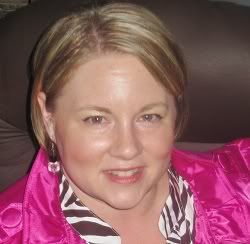 Can you believe it's June already? I can't! LOL! So a new month means a new Paper Guest CT. This month
meteechtap
is our June GCT! Janet did an awesome job with the
Doodlebug Nifty Notions
line. Check it out!
Name:
My name is Janet and I am currently a part-time Stay at Home Mom and a Dance Teacher. I have two boys ages 2 and 6 in which a large majority of my LOs feature them. I have been an ACOT groupie since Sept 2009 and have enjoyed every minute!!
Favorite television show?
My current favorite show is Dr. Who, since Desperate House Wives is over for the season.
Name 3 musical artists you enjoy.
Michael Buble' is definatly my fave, I also love Jason Mraz, and anything from Big Bad Vodoo Daddies(modernized 40's Swing).
Name 2 of your favorite colors.
Black and Hot pink are my faves. That being said I rarely get to use them in LO's since I have boys.
Favorite thing to do with your family?
Our current family favorite is playing a lot of different games on our Wii system together.
What's your favorite scrapping tool to use when scrapbooking?
I am in love with my distressing tool from We R Memory Keepers and their Sew Easy Tool as well.
Name 3 of your favorite SB companies/lines.
Bo Bunny, Moxxie, and We R Memory Keepers
What are your favorite adhesives?
3L Scrapbook Adhesive and Zig
What's the one thing you must have readily available when you sit down to scrap?
My Tool Carry Tote and my Paper Trimmer.
What would you like the ACOT members to know about you?
I enjoy scrapping Immensly, it is my escape from everyday stress and troubles. I have found a real home away from home with all the Cherries here. Its the best place to find creative inspriaton and friendly people!! Thank you for the wonder opportunity to shine for a moment.
"For my reveal I got to Create with Doodle Bug's Nifty Notions Collection, How CUTE!! I loved the bright colors as well as the primary colors mixed in. This line was wonderfully fun to create with and looks amazing with solid colors!"
Seamstress:
My first thought with this line was to feature our Seamstress from the Dance Studio. She has magical fingers and creative genius with material! I used the Nifty Notions Paper, with Banana Bliss Bazzill Cardstock. I made the pocket with the Nifty Notions Die Cut Paper. Then added the stitching with the Sew Easy Tool and a template from Bazzill.
It measures up 2 big fun:
The versatility of this line is fantastic. I was able to focus in on the primary colors and make a cute LO of my little Matthew. He had sooo much fun playing with Daddy's Measuring Tape, and proved to be a wonderful camera moment. I started with
Celtic Green Bazzill Cardstock
then layered it with
Cross Stitch Paper
, and Sew Plaid Paper. I inked the edge of
Sew Plaid
with Red and the edge of Cross Stitch in yellow to enhance the primary colors. Then once again used my sew easy tool to add another layer of dimension.
She's My Source:
Since this Line is about sewing, I had to do a LO about my Mom. She has sewn her entire adult life. It was a way of life for them. My Mom is one of the most creative people I know, and she is My Source of Creativity. My base is Sew Easy Plaid Paper, with a small layer of the
Nifty Notions Die Cut Paper
down the side. Then layering the middle with the Cross Stitch Paper and outling this with the back of the same paper. I then added the cute text boxes from the
Nifty Notions Cute Cuts
, and added the Title , which is
Doodle Bug Limeade Hopscotch
.
For You Gift Card Holder:
The colors inspired me to make a gift card holder. I saw a simpler version in a scrappy source and wanted try one. I used the Nifty Notions Die Cut Paper to make the bottom,and holder. Then I added the trim from the Fancy Frills Cardstock Border Stickers. I made the flower from Sew Plaid Paper and Banana Bliss Bazzill Cardstock. I used
Rain Bazzill Cardstock
and Cross Stitch Paper for the Holder. Then added the super cute little flowers to finish it off.
"I love sharing my creativity with anyone who is interested. Thank You so much for the Opportunity!!
"
Products Used: