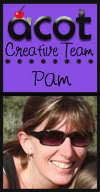 5 and Dime
. The name of this line reminds me of the old Woolworth's store that my brother and I would walk down to when I was a little girl. We would pool our change, and walk to that magical place. There was a counter where you could get the best grilled cheese sandwich, and aisles of drug store items.
Then...there was that section that the kids all hovered by...the candy, the bouncy balls, and for me...the baseball cards.
October Afternoon made this line as wonderful as those memories. The papers are gorgeous, double sided, and are classic
October Afteroon
.
The patterns are bold, the colors are complimentary, and they are true to the concept of the corner Dime Store.
Here are the layouts that I created using this wonderful line!
The first two are from our vacation to South Dakota last summer. My children spent most of their time outside, so I had to use the blues of the line for an outdoor shot. I LOVE their labels, as they can be used for accents as well as journaling.
Of course, I HAD to use this line to document our visit to Wall Drug, which is the epitomy of the 5 and Dime! I layered rub ons, and cut out sayings from the patterned paper to try and duplicate the feeling of being in a store like Wall Drug...a very visual experience.
I LOVE big bold patterns, because that means that I can hand cut it, and make it my own. Here is a super simple layout of Kiley from Easter Sunday.
In second grade at Delaney's school, once you master your math facts, they have a ceremony in which a cape and hat are presented. Here is a layout of Delaney's ceremony.
Lastly, here is my favorite layout of them all...I just took a few of all the embellishments and layered them all together. This is the perfect example of the versatility of the embellishments.
I rarely say this...but this is a MUST HAVE line of papers and embellishments. I already have more in my cart, and I cannot wait to play some more with it!
Products Used: