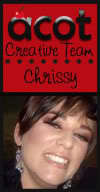 In this online crop class, you'll learn how to alter an every day glass bottle drink carrier.
Here is what we will be making!
For the first step, I measured and cut out my pieces for the side panels. Also, I would recommend cutting and gluing a sturdy piece of cardboard to the bottom of the drink carrier. I didn't figure this part out until I was finished with it. It will cover any openings in the bottom and provide stability to keep it from wanting to close on itself.
Now for this step, here is where some "upcycling" comes in. If you have some screen mesh, cut a small piece of it and lay it over the side panels you just cut out. Grab your paint, gesso, mists, or whatever you what to use and paint over it. You could also put the paint onto the screen and use the screen as a stamp. Keep the screen mesh aside. You'll use it again later.
I used mine as a mask and pushed onto the screen mesh with my finger tips. It gave a "polka dot" kind of look to the panels.
Next, I used some Hambly Washi tape. This stuff is AWESOME! I used the bright pink paisley pattern because of the amazing contrast in color. I put it along the bottoms of the panels. You can use gaffing tape, borders, ribbons, whatever you want!
The tape gives the sides a nice, finished look. I also ink the edges of just about everything I cut.
Once the paint has dried and you finished, you can glue the panels onto your drink carrier.
Next, measure and cut the papers you want to use for your front and back. For the front, I wanted to layer different color papers and patterns. Once again, I love me some contrast!
A little bit more upcycling for you! Cut a piece of bubble wrap or use a background stamp or anything else that would add texture. Next, cover it with paint. I used gesso because it dries ridiculously quick and I think it has a more rough look than white acrylic paint.
I used bubble wrap to keep with the polka dot look I have going on. I have the small dots of the pink/green paper, the huge dots of the blue/black paper and the medium-ish dots of the bubble wrap.
Take the bubble wrap, stamp, or whatever texture tool you slapped that paint onto and stamp your paper you want as the top layer. If you chose to not layer papers, then stamp the front panel. You can also stamp the back or wherever else you want!
Go on ahead and glue the layers together.
Next, find some really frilly, fluffy, textured trim and glue it around the layer. I chose this trim. I love the frilly look of it and of course, the contrast of white against the bold papers underneath. The white trim also ties the white gesso together -
Remember that screen you used? Well, you're going to need it again. Make sure to wash it off if you want....or you could leave it all painted up to add visual interest and color. I washed mine off.
Measure it to the length and width you like and layer it onto your front panel. I cut mine in the middle of the "rows" to give the edges a rough look. I used my hot glue gun to glue it down, but you can use glue dots or whatever suits you. Keep in mind to place the adhesive where it will be covered or else it will show.
Next, find a cute border or chipboard embellie to layer onto the screen. You can use anything you want. Once again, I chose the chipboard strip for it's fun colors and contrast.
I pop-dotted it up off of the screen to give some dimension.
I chose a large round embellie. To draw the eye to it, I used my scallop circle punch and punch a lime green foundation and pop dotted my chipboard shape up. Once again, all of my edges are inked.
Go ahead and add your lettering.
I decided that the cupcake wasn't exactly the "look" I was going for so I layered some foamy flowers by American Crafts and glued them onto my chipboard shape. I love how the yellow sunburst peeks through the background.
Now that we're done with the front, it's time to do the back!
Glue the other panel you cut out to the back of your drink carrier.
I used some more of my screen mesh, but you can use any border, strip, trim, ANYTHING!
Next, I cut a strip of paper to layer onto the mesh. I chose to use the paper I plan on using for my handles. The colors and patterns are a nice contrast and because that paper has all of the colors I've used so far, it's a perfect tie together.
And now for the drink handles. These are kind of tricky. Use a ruler. It makes it a lot easier.
For the final step, ink your edges if you choose then glue them on to the drink carrier.
VOILA!!! Finito!!!!!!
I cannot wait to see what you guys come up with! I really hope you enjoyed my class and were able to learn a technique or two!