When I saw the sneak peeks from Echo Park of the
Country Drive
line, I was SO excited! I was waiting and waiting and impatiently waiting some more for this to show up in the shoppe. I knew these colors and the patterns would be just perfect for some sort of wall hanging I wanted to make for my daughter's room.
You should have seen me when I got my order home! I had it all spread out around me on the living room floor, smiling like a big dork. Or maybe just like a happy scrapbooker. :)
Printer's Tray Wall Hanging

The first project I did was the wall hanging I had planned on making. I made 6 different 4x6 pieces and fit them in each slot of a printer's tray. This was really a fun project to work on because it was all about embellishment and details. I made good use of the papers, journaling cards and stickers from the sticker sheet on this one.
The
Doodlebug Nifty Notions buttons
matched this line perfectly, so I used a lot of those, too. The multitude of cute patterns and stickers in this line made so many possibilities with this project- flowers, bees, butterflies, hearts and ladybugs galore! I also loved the little phrase stickers on the alpha and sticker sheets.

Each of these blocks could easily be adapted to be a greeting card or a page embellishment. Clicking on the photo will take you to my gallery where there is a close up of each block.

Hey Little Guy...
I've really been liking the 8.5"x11" size lately just for something different. I find it's a great way to showcase a single photo, just like I did here where I really wanted the photo to be the main focus. I used the bee strip from the strips paper as a divider, then used one of the cute cards for my journaling. I tried to keep the page "boy-ish" by using
scrapbooking
papers with neutral patterns in yellow, blue and orange. I can't get enough of the great Doodlebug buttons, so I had to add some of those, too.
I've Been Waiting

I couldn't have this line and not do a page on the joys of country living! These colors really go well with any background, especially a neutral kraft. I layered several strips and put my photos on top. Some of the small alphas on the alpha sheet worked great for my long title and some of the smaller stickers were great embellishments.

A few other notes about this line: I really like the matching solid papers. They are double sided and have a slight cross hatch pattern and are perfect to use in place of cardstock! I also think the journaling cards are SUPER cute! I love them. I actually love them so much, I got 3 sheets! Don't you think they'd be perfect as a base for little cards?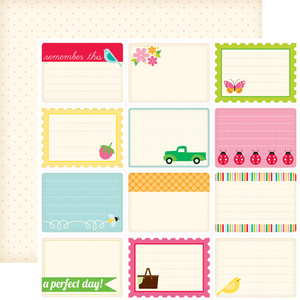 Products used in this reveal: