Our July Paper Guest CT:
killarney_rose
, got to work with the
K&Company Abrianna
line. And she did an awesome job with it!
My name is Kim and I am honored to have been chosen as GCT for July! I was so excited when I received the offer all I could do was point as I handed the lap top to my husband, LOL! He's like 'WHAT!' LOL! I'm just speechless. My wonderful husband Larry and I celebrate our Silver Anniversary in August.
We have two children, Lynn, who is working on her Masters of Agriculture Education at Texas A&M Univ. and James, who is working on his Bachelor of Science in Computer Science at University of Houston. Larry and I are self-employed with two businesses. Larry manages our Oilfield Business and I manage Flying J&L Ranch.
I have my dream job as a farmer! I am surrounded by cattle, horses, donkeys, dogs, chickens, a cat and an abundance of wildlife. There is always something to take a picture of at the ranch. It's hard to choose between my boys (bulls) or calves as my favorite subjects.
I am a huge fan of K&Co. embellishments and not so much the paper. In fact I've only purchased 4 or 5 papers in almost five years of scrapping. I narrowed it to two pretty quick and decided to sleep on it. I had a vision when asked to be GCT to see if I could show diversity in whatever I was able to scrap with.
It truly has been one of the very best experiences to use this line in my scrapping! I took my desire to challenge myself one step further with this line in two areas. I could only use cardstock as an accent. Also, I wanted to make my own flowers which is so very hot right now.
The end of May I found a stamp at
ACOT
that perfectly fit a very special gift I received for Mother's Day last year. I fell hook line and sinker as soon as I saw this cow at a Texas Longhorn Sale a week before Mother's Day. Purple just seemed to fit, the touch of orange absolutely perfect! Add some pink for the cow and blue for her bull calf.
A touch of glimmer glam to the photos mats and a little curling to the corners and I have the dimension I was searching for without it being too drastic. I took the 'Picture Perfect' sticker, attached to a piece of cardstock, fussy cut it out and used some pop dots to lift it off the page. And the stamp is just perfect as she will live up to her name, Scaredy Cat.
I love how the stamp was presented in the package and chose to use it this way for the title.

The versatility of Abrianna shines with working on a heritage layout! The portrait of my mother taken just before she turned two in October 1935. This photo must have been an incredible portrait when new.
I put this one together so quickly. A little punching and fussy cutting enabled my handmade flowers as my border to be made in minutes. A little hand stitching gave me the elegance I wanted in my eyes. My favorite layout using Abrianna! I have to do more heritage work with my leftovers if my daughter's threat to abscond with everything will take a while to materialize!
Thank you ACOT for allowing me to play with this beautiful line from K&Company!!!
Products Used: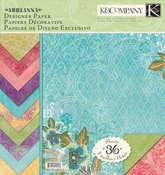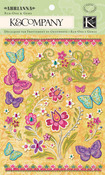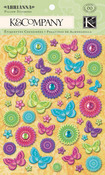 You can view Kim's complete article by visiting our Resources Page.