If you are a frequent reader of the
A Cherry on Top message board
, I am sure that you have heard me moan about the lack of NAVY BLUE in the scrapbooking world. For those of us with teenage boys that we occasionally scrapbook (when they will let us photograph them), it is a color sorely lacking in new products that are being released.
As I was trying to choose my line for this reveal, imagine my surprise, when I saw
My Minds Eye Lush 2
! (Well, I also got about 12 pm's from ACOT members, and many Facebook posts. Like I said, I wear my heart on my sleeve, and have great friends!)
Manufacturers have seemed to have gone the route of multiple colored patterns in many styles to create a line, so
My Minds Eye's
approach with
Lush2
is very refreshing and bold. This line is a basic line. It consists of the same patterns in four coordinating colors.... fuschia, aqua, orange and navy blue.
'You Make Me Believe' by Pam
The papers are double sided, except for the flocked patterns. The embellishments include brads, rhinestones, journaling pads and buttons. This Lush line lends itself easily to monochromatic layouts, or to mix and matching colors and patterns.
Here is the layout that I cherish from this line. It is the navy blue monochromatic layout of my son. At 14, scrapbooking him has gotten more and more difficult. He likes simple, so I can't put too much on the layout. This line was perfect for him. It is simple, it is direct, and it is navy blue.
-----------------------------------------------------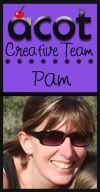 Pam lives in Wisconsin with her four children and husband. Besides scrapbooking, she enjoys altering items and making gifts. Pam is ACOT's Creative Team Coordinator.