Posted by SarahA (Sarah):
Around this time of year, there are several birthdays in my family and I wanted to come up with some fun, personalized ideas. Keep reading to see some fun, easy projects that come together quickly. There's even a layout idea for easy event scrapping!
Happy Birthday Card

I made this fun card using the Random line from Crate Paper. Lots of layering was the key to this card. I used several of the papers and a lot of the die cuts from the sheet included in the collection pack. These die cuts are the same as the chipboard pieces, so you could use either to make the card.
I outlined the letters with my black Zig pen for a little more dimension, used foam adhesive under some pieces, then sewed on some buttons. It's fun to take all of those little pieces and layer them up until you like what you see. Lots of detail make for a fun card! When you have a card with a lot of dimension, they don't always fit in envelopes well.
To remedy this, I put it in a glassine bag. I used a border punched strip, a few more pieces from the die cut sheet and then folded the top down and sewed it shut with my sewing machine.
Birthday Pin

Five years old is an important birthday, so I wanted to be able to show it off! I started by cutting a 2.5" scalloped circle with my Slice. I then cut ribbons to my desired length and then hot glued the ends to the middle of that scalloped circle. I really loved these bright new ribbons from Martha Stewart for this project- so many colors in one package!
Different widths of ribbon add a fun factor, so I added some wider ribbon from Fancy Pants. Next I cut a 2" circle and a 2" scalloped circle and adhered them together. I then added foam adhesive to that and layered it on top of the ribbon. Next I adhered a 1.5" circle to the center of that and added my number.
I added Diamond Stickles around the edge of the smaller scalloped circle for a little bling. My last step was to hot-glue a pin back on the back. If you don't have a new pin back handy, just go looking around in your junk jewelry to pull one off something you don't wear anymore!
Birthday Crown

Who doesn't want to be a prince or princess on their birthday?! I downloaded a crown template here, then printed it out on the backside of my paper from the Pink Paislee Vintage Vogue line. I used my Slice and the Applique Basics design card to cut varying sizes of butterflies, then adhered them with foam adhesive.
I also cut the shadow piece for the large butterfly and adhered that laying flat to the crown. A small circle with the age in the center was added to the middle of the main butterfly. I added some KaiserCraft pearls to the tips of the crown, then sprayed the whole crown with Silver Plated Maya Mist for some sparkle. Pearl Glimmer Mist is another one for lots of sparkle and shine!
Five Years Old

I struggle with "event scrapping" (birthdays, holidays, etc) sometimes because it always seems there are so many photos and so much you want to include to really capture the day. To remedy this, I printed one large photo that I felt represented the day. Then, I chose several smaller photos that helped tell my story and included those, too.
I think four photos can pretty much sum up most events and that way I still had plenty of room left for journaling and a few embellishments. I really liked the little bit of grey on the paper at the bottom where I used the Jillibean date sticker, so I misted some of the Fancy Pants filter paper embellishments with Charcoal Maya Mist for another pop of that color.
Some products used: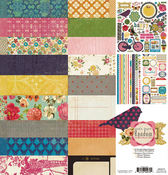 Birthday Pin: