There was some discussion on trends in scrapbooking in the forums recently and one of the trends mentioned was pretty prints on patterned paper. Many members of the forum were in agreement that this was a trend they would like to see continued. Echo Park has lived up to expectations with the release of
Victoria Gardens
.
Each sheet of paper in this line is covered on both sides with monochromatic Victorian designs that are simply stunning. But these designs, while very pretty, aren't just for girls. I chose to use the papers with pictures from my family reunion including with a picture that I absolutely adore of my cousin and his son. I'll share this
scrapbooking
page with you first and you can judge for yourself whether Victoria Gardens is as versitile as I thought it was!
You and Me
One of the things I found to be very simple and effective to do with these papers was to add a little color to them with paint. Each side is monochromatic and the colors are very easy to match. For You and Me, I put the title down with a sticker from the sticker sheet and then layered other matching pieces of paper and embellishments all around the photo.
The picture shows a very loving conversation that was going on between my cousin and his son, who has a terminal genetic disease. I wanted the picture to depict how precious and joyful life can be even when it's not perfect. I have used Prima and Sei butterflies and Prima flowers along with a frame sticker from the sticker sheet and letters from Sassafras Lass.
There is a doily printed paper in the set and doily stickers, some of each are also layered onto the page. I can't help but spend time looking at this page.
---
Claire
This is Claire, she's the granddaughter of my dad's double cousin (my grandpa's sister married my grandma's brother, yeah, I know confusing, but that's family!). She's a real cutie with quite a personality! Every generation we get only 1 or 2 females in my family and for the youngest generation, Claire is it! I was so happy to have a little girl to try these papers out with!
Once again, I have added a little color to the background paper which is one of the solid color papers that go with the collection. I have layered flowers and doilies fussy cut from the papers along with stickers and Prima flowers around the photo. The yellow patterned paper helps the picture stand out from the page which has a much wider range of colors to match Claire's adorable little dress and upside down glasses.
---
The Crazy Cousins
My cousins aren't crazy in the clincal sense of the word, more in the crazy fun sort of way. For this page I pulled from the darkness of the pictures to add some black paint over white paint on the background patterned paper. This sheet of paper gives you an idea of the types of patterns on the papers and the monochromatic color schemes of them.
I added in a bit of orange to the page and fussy cut flowers out of the papers. For the title cluster I've used some of the journaling cards and a sticker frame from the sticker sheet. You will find it crazy fun to cut up and layer all of the papers in this line!
---
Family Time
My last page for this reveal shows pictures of the women in my generation. The best thing about having alot of boy cousins is the wonderful women they marry! Eden is one such wonderful woman. We're not all shown here but it is so much fun when we all get together.
While the pictures are all of women, I didn't want this page to be overly girly so I chose some of my favorite colors from Victoria Gardens, turquoise, light red, pink, olive green, and gray. The variety of patterns were perfect for banners and because they are double sided, I chose to make one of the types of banners from strips of paper torn and folded over the twine.
Journal cards are layered under the pictures and stickers were used for the title and along some of the flags for the banners.
---
Echo Park has another hit with Victoria Gardens! Just take a look at all the beautiful patterns available in the line and soon you'll be searching your photos for the perfect beauties to go along with these papers, too.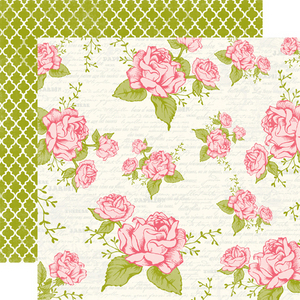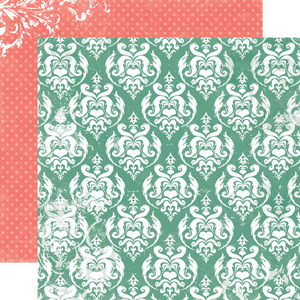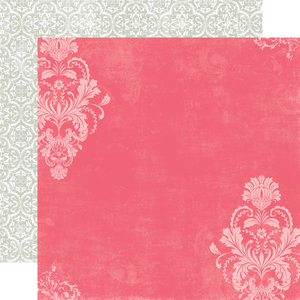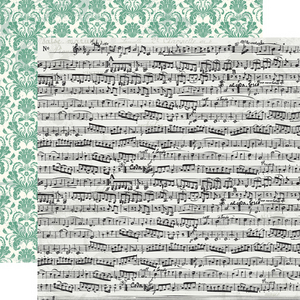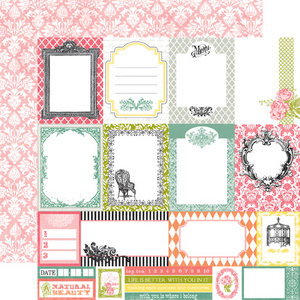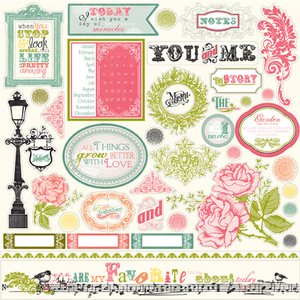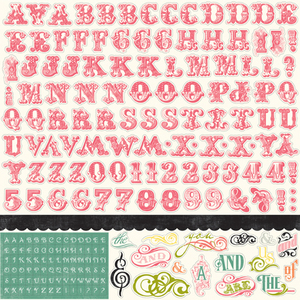 Many thanks to ACOT for the use of Echo Park Victoria Garden for this reveal!