Save the date for Wednesday, September 19th! Join A Cherry On Top as we welcome Webster's Pages Designers in our Cherry Loft Message Board forum for a live chat! Learn about what inspires them, how they create, ask your must-know questions and maybe even win a prize or two!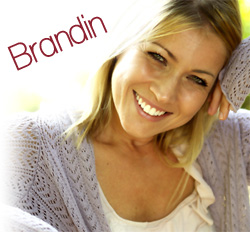 Meet Webster's Pages Co-Owner and Designer - Brandin O'Neill tonight!
Brandin knows the importance of preserving family memories. Webster's Pages is proud to be family owned and operated. Creating high quality, beautiful products for you remains the company's top priority.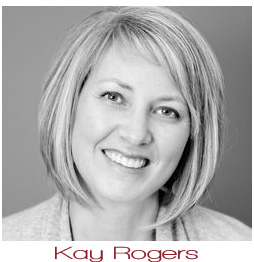 I am the proud mom of Emily, 25, who is a biology teacher in Chicago, and Jenna, who is a fifth-grader. I'm a high school math teacher, and I also teach Photoshop Elements, Digital Scrapbooking, and Lightroom at my local camera store.
I specialize in editing photos creatively.I entered the world of mixed media last winter and have loved it. All but one of my last 8 projects have been picked up for publication recently! It's been fun to have another creative outlet!I am learning to sew. It's been a slow process, and I am currently making a purse. It's a struggle for me, to be sure!
I am lucky enough to have ACOT in my "backyard" so to speak, as I live 30 minutes away. I have visited the warehouse sale several times! Visit my blog at rogerskk.typepad.com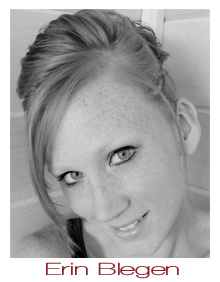 Hi! My name is Erin Blegen and I live in rural Northeast Minnesota, USA. There my hubby Josh and I make our home in a little cabin in the woods along with our 3 beautiful children. We enjoy anything the outdoors has to offer and we live a fairly simple lifestyle that most people would not choose (no running water for starters lol)- but it's a good, quiet life and we like it that way :).
I first started scrapbooking back in 2007 when my first child was born, completed one album, and then quit until July 2010 when my second child was born. Since then, I haven't looked back! In that time I've discovered my "style" which generally includes lots of beautiful layers, flowers, and details.
My creative interests also include cards and altered projects, which I've quickly fallen in love with! I'm a bit of a paper and flower collector, love to work with chipboard, and experimenting with different mediums. I am blessed to be currently designing for Webster's Pages, Manor House Creations, Scrap FX, C'est Magnifique Kits, and Once Upon A...Sketch.
You can find me at my blog here: http://erinblegen.blogspot.com.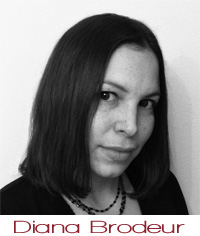 Hi! My name is Diana Brodeur. I live in Oklahoma with my two daughters. During the day, I work as an Information Security Officer at a local bank but my true passion is scrapbooking. I was introduced to scrapbooking in 2004 by one of my coworkers.
I was instantly hooked and have been scrapping ever since! I usually scrap in the evenings when my girls are in bed or on the weekends. Now that my girls are older, they love to scrap alongside me.

I currently am a design team member for the Webster's Pages Clean and Simple team and Scrapbooking from the Inside Out kit club. I have been published in Creating Keepsakes, Scrapbook Trends, Making Memories, Creative Memories, and Scrapstreet.com Magazine.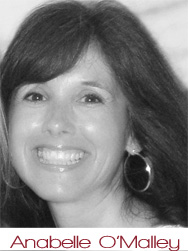 Hi! I'm Anabelle O'Malley! I live in Delaware with my husband and our nine year old son, Ryan along with our orange tabby, Pulu. I've been paper crafting for the past eight years and have loved every minute of it. It truly is my creative outlet.
As a child, I would spend hours drawing and making cards for people, so this is just a natural extension of my love for all things paper. Along with creating layouts, I still love card making and trying out new techniques. My creations contain lots of texture and details, layering and clustering.
I love mixing colors and patterns! Lately, foam adhesive and die cuts from my Silhouette machine have been making many appearances on my pages.

I have been with Webster's since 2007. I have had the pleasure of designing for a variety of manufacturers and have had my work published in Creating Keepsakes, Scrapbook Trends, Cards, Papercrafts and other paper crafting books and publications. Additionally, I was a Memory Maker's Master in 2008.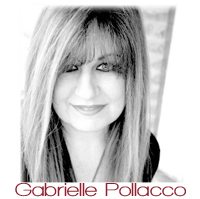 Hi! I'm Gabrielle Pollacco and I've been scrapping for about 9 years now. I've been with Webster's Pages for 2 years now and have loved every minute of it!
I've been published in a number of magazines including Creating Keepsakes, Memory Makers, Scrapbooking & Beyond as well as a number of International magazines in the UK, Russia and Australia.
Wednesday, September 19th
Live Chat begins at 9pm EST; 6pm PST