I first got a look at the October Afternoon Modern Homemaker line this last summer at the CHA show and I knew it was one that I had to have. I was lucky enough to get to create with it this month and I still have more creating to do with it. I love doing heritage pictures and since I'm also starting a album for my daughters and son about their grandparents this line was a perfect one to use to get started with.
My first layout and probably my favorite one this month is this one with the three generations in it. It's one that my mom looks pretty happy to be getting her picture taken.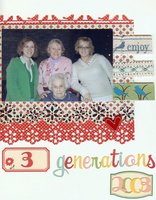 College graduation for her youngest granddaughter was such a good day for my mom, the best part of the day for her was not only seeing her graduate but having her dad hand her the diploma from being on the board at the college, it really made it all so special.
It wouldn't be complete to have a book on my mother for my daughter without having her famous look in it.
I wonder if the happy homemakers at this time were all really that happy. This paper line is the perfect match for the picture of my mother and her sisters.
My grandmother looks so peaceful out sitting in her lawn chair this day, she wasn't one that really liked to get her picture taken but she looks like she was a natural in this photo.
Progress on our house that is getting built- I can just see my husband sitting in there soon reading , that's if I can get him to sit still long enough.
My last entry for this month is a card I made for my aunt- I made the butterflies with the Martha Stewart punch and decorated them with various things.
The October Afternoon line of Modern Homemaker has so many great uses and works good with so many pictures, I loved creating with it.
----------------------------------------------------------------------