July 16th - 19th
Chicago, IL - USA
Conference & Trade Show
We ♥ the month of July! It seems to be a very busy time for most. We just celebrated Independence Day here in the States which means a short work week, lots of barbecue and festive fireworks! Here's a snap shot I took of one of our local pyrotechnic extravaganzas: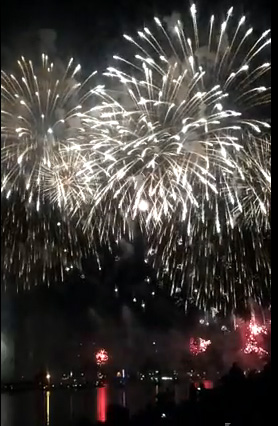 Yes! I adore fireworks. Not sure why explosions get me all giddy, but I love it! However, that's only one reason I love July. Another reason? The Craft & Hobby Association (CHA) hosts the Summer conference in Chicago! New vendors, new meet-n-greets, new paper crafting GOODIES!
It's like Christmas in July!
You'll begin seeing 'sneak peeks' from scrapbooking and paper crafting manufacturers all over cyber land. We'll be posting some of those on our website and Message Board, but we also want to hear from you. Tell us what you think will be the 'it thing' during the upcoming seasons and which lines and manufacturers you're excited about!
We can't wait to get there and we can't wait to hear about your must-have lists! Believe me, we'll be taking notes and keeping an eye out for your favorites. Comment here or on our facebook page.
Hmm...I wonder if there will be any giveaways involved??? How about now through the end of CHA we'll select random winners from comments here on our blog, on our facebook page, or if we 'spot' you saying anything amazing about A Cherry On Top online. Yes - those 'I like A Cherry On Top' 10,000 fans entries count!
Don't you just love July?
~Winners List~
Send an email to service@acherryontop.com to claim your gift!
---------------------------------
Carissa Imel
Tammy Sunderman
Judy Lucas
Sandi Brassard
centralNYscrapper
Miriam Prantner
next winner could be you!