pretty sure that's Michelle hiding back there! HAHA!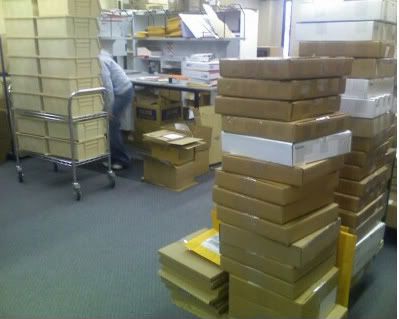 The Thanksgiving/Black Friday/Cyber Monday Sale was a blast! Having everything on sale was a popular idea. Imagine that???
Our shipping department is hard at work making sure your orders are securely packaged and shipped as quickly as humanly possible! Believe it or not, yes...we still use humans. :) The robots weren't too spiffy at picking single sheets of cardstock and they kept knocking over the coffee pot. They had to go!
Some deliveries might be shipping a day or two later than what you're used to. We want you to know we haven't forgotten you! Hey...maybe you can spot your package somewhere in these piles:
<----
Is that your order?
Is it that big one over there? Some of these orders were incredibly heavy! You guys are making the UPS® dudes work extra hard.
But just think of all of the money that was saved? Talk about savvy shoppers! If you did select UPS® ground or expedited delivery options, you will be able to
track your package right to your front door! Forget to order something during the sale? Don't worry. There's still time to receive it in time for Christmas! If you have any questions, please feel free to contact our Customer Support Department.